Official site now online!
The club now has a site at http://www.sasmee.com.au. I'll remove any duplicated content from this page in due course, leaving only unique content like the photo below.
See the official site for most things including:
Contacting the club
When it is open
Introduction
You might have visited the ride-on model steam trains at Millswood, South Australia in the past as a child and might be wanting to visit again but can't find a web page. This page should help you in planning your visit to SASMEE Park (South Australian Society of Model and Experimental Engineers Park).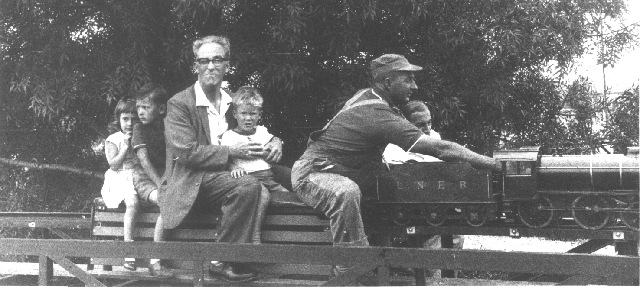 The author (fourth from left) with grandfather (third from left), Sasmee Park, circa 1967. SASMEE moved to it's current site in 1947. The elevated track was used from 1950 to 1990 and then moved to ground level. A section of the elevated track is preserved under a Jacarandah tree in the area near the steam machinery shed.
Access
The park is located on Millswood Crescent, Millswood, SA near the corner of Ravensthorpe Avenue. Alternatively you there is a pedestrian crossing across the train tracks at the corner of Cromer Parade and Fairfax Avenue. Nearby train stations are Goodwood and Clarence Park (all about 700 metres away). Buses run regularly along Goodwood road.
What to bring
Bring some money for admission ($5 for all persons). There is a canteen with inexpensively priced soft drinks($2 can), ice-blocks, hot chips ($3), tea/coffee($2), snakes(15c), muffins etc.
Make sure that you and your children are wearing fully covered footwear. If you have no shoes or are wearing thongs or sandals you won't be able to go on the trains. Both the toes and heel must be covered. This rule is strictly enforced. Club policy is that babes in arms or children being carried are not permitted on the trains.
What not to bring
Alcohol
Dogs
Gazebos
Beach Umbrellas
Tents
Activities
There are four sorts of activities to enjoy. Make sure you try them all.
Stationary steam
There is a shed with three full size stationary engines and a large number of model steam engines of different designs. There will also be others out on a table near the shed. Access to this area is via stairs to a walkway over the model train tracks, there is no wheelchair access to this area.
Model boats
Next to the stationary steam engines is a circular boat pond. Speedboats and radio controlled boats (and even the odd submarine) can be seen in the lake.
Model trains
Steam and the occasional diesel or electric locomotive run on two separate circuits, one for large gauge model trains and one smaller. Both of these provide free train rides, you just need to queue at the station (one for each circuit). Younger children are welcome on the trains but need to be supervised by an adult. Each ride makes two circuits of the park and includes a tunnel! As the park is adjacent the intersection of the Noarlunga and Belair (Melbourne) railway lines frequent suburban and the occasional freight (big!) train can also be seen.
Since around 2014 there is a garden railway set up in the southern end of the grassed area near the Steam machinery shed
Just watching
There are grassed areas and seats in shady places where you can watch all of the activities listed above. There are plenty of places to take photographs of the trains and waving passengers. You can even bring a picnic (there are shady picnic tables). There are often birthday parties held there. No bookings are needed or taken for birthday parties.
Other Ride-on Model Trains similar to SASMEE park in SA
Australian Model Engineering magazine has a reasonably up to date listing of clubs which is summarised below:
Port Augusta Model Engineers Inc. - Port Augusta. Runs 1pm-4pm on the first and third Sunday of each month (except January).
Clare Valley Model Engineers - Clare. Runs on the second and fourth Sunday of each month.
Roseworthy Railway Club Inc. - Roseworthy. Runs on the third Saturday or Sunday of each month.
Penfield Model Engineers Society - near Salisbury. Runs on the last Sunday of each month except December. Had twilight runs on Saturdays during summer 2005/6.
Adelaide Miniature Steam Railway Society - Prospect. Runs on the fourth Sunday of each month except December, 1.30 till 4.30pm (4pm June, July & August).
Morphett Vale Railway Inc. - Morphett Vale. Runs on the second and fourth Sunday of each month (but not Dec 24th).
About this page
There isn't an official page so I thought I would make some notes after first visit for many years. If you have questions about this page or would like to use the photograph above please contact me.
This page is based on a visits I made on 5 January 2003, 16 March 2003, 22 Jan 2004, 17 April 2004, 19 Feb 2005, 4 Sep 2005, 5 Feb 2006,.. 17 Oct 2009,.. 19 Apr 2014